"It was a pleasure and an honor to have served my G-d."
-Jack Teitel, Ultra Orthodox Jewish Terrorist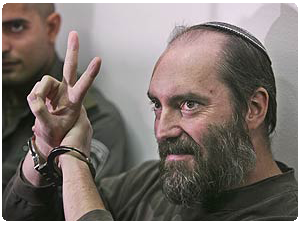 On November 1, 2009, Israeli authorities arrested a Jewish-American extremist suspected of carrying out a series of high-profile hate crimes against Arabs, peace activists and a breakaway Jewish sect. Israel's Shin Bet security service says Jack Teitel, a 37-year-old ultra-Orthodox West Bank settler, is behind the attacks, spanning 12 years.
Police and security forces said that Teitel's targets included the murder of two Arabs and bombing attacks against a prominent left-wing academic, a monastery and Israeli police, whom he accused of begin pro-gay, and a family of messianic Jews, resulting in the bombing in the community of Ariel that severely wounded a teenaged Messianic believer, Ami Ortiz.
Authorities originally suspected a Jewish underground for some of the attacks. But acquaintances described the father of four as a lone wolf, and authorities say he acted alone.
Read more about the ongoing case
here
.

Download The Surveillance Footage of Jack Teitel Panting "The Purim Basket Bomb" at the doorstep of the Ortiz residence in Ariel, Israel.
Jack Teitel Emails The Ortiz Family in 2007

We found out through a newspaper article in the Hebrew edition of the newspaper Haaretz, that Teitel had opened an email account under a false name and used an Internet café in Jerusalem to send out emails. We had actually received an email from Teitel's assumed name 3 months before the attack. He had written claiming that he and his girlfriend wanted to come to a service and he requested details how to get to our congregation. The way it was written aroused suspicion in David and myself, and we suspected Yad L'achim (anti freedom of religion organization) or someone similar and we never answered him. I saved the email, and a month after the attack gave it to the police as they asked if I had received any suspicious emails or telephone calls.

Two months before he was arrested, Teitel was tracked by the police to the Internet café and ten minutes after he left, they raided the place, and possessed the computer he had been working on and the security camera pictures. When we read this, and realized that email was from Teitel himself, it really shook us up, but we were amazed at how the Lord had given us the warning in our spirits and the wisdom to not answer.

This is the email from Jack Teitel under the name "Daniel Ivgeny"
 
---

From: Daniel Ivgeny
Date:12/12/07 20:19:10
To: (Ortoz Email Address Withheld)
Subject: Services

Rabbi David Ortiz,

I would like to join your services with my girlfriend Ronit, to see if we would like it. I am not very religious, but I feel very close to God. I live in Eli, so traveling is not a problem.

Please tell me when you will have next service, and where we should go. I look forward to hearing from you.
Sincerely,
Daniel
---